MONDAY, SEPTEMBER 4, 2023.  BY LODI WINEGRAPE COMMISSION.
Louis Abba, Jr

Abba Vineyards / Owner & Grower
HOW MANY YEARS HAVE YOU AND YOUR FAMILY BEEN FARMING WINEGRAPES?
I have been farming winegrapes since I was 8 years old, with my family and our vineyards for 83 years. Our family has been farming in Lodi for 94 years. My father, Louis Abba, Sr, (1893-1991) was born in Italy and also a vineyardist all his life. I represent the third generation of winegrowers, and my son Phil is our fourth generation.
HOW MANY ACRES DO YOU FARM? WHICH VARIETIES DO YOU GROW?
We grow 54 acres of winegrapes. The varieties grown are Zinfandel, Cabernet Sauvignon, Syrah, Grenache, Mourvedre, and Cinsault.
HOW HAS THE LODI WINE REGION CHANGED OVER THE YEARS?
In the early days it was all Tokay, Zinfandel and Carignane, and then later French Colombard and Chenin Blanc, which my dad used to call 'shitty blanc' because it was hard to grow, and always susceptible to rot and mildew. We used to pick those grapes in 50-lb. wooden lug boxes, and that's how we carried them over to the wineries – we didn't have gondolas back then. Now we pick most of our crop with a machine, then it is delivered to most of the wineries in a truck and trailer holding 24 tons. Irrigation was also done with a furrow or ditch and now is done with drip irrigation.
CURRENTLY WHAT'S YOUR GO-TO DRINK?
It's a toss-up: red wine or a brandy.
FORD, CHEVY, OR DODGE?
Chevy
Not only is Louis Abba, Jr, a seasoned winegrower and a charming character with twinkly eyes and one of those contagious smiles, having Italian parents means he is also a longtime home winemaker. He has over 75 vintages under his belt of special Abba selection Zinfandel. Read Elaine Arnaqiaq Chukan Brown's review of his 72nd vintage, the 2016 Louie's Home Wine – Mokelumne River Lodi, on her popular @hawk_wakawaka instagram HERE. Elaine and the Abba family connected while preparing for a Masterclass in Sustainable Viticulture & LODI RULES. This seminar digs into the unique perspective that goes into farming for both quality and longevity in one of California's most important and dynamic growing regions. The masterclass was moderated by Elaine with guest speakers Madelyn Kolber (KG Vineyard Management), Phil Abba (Abba Vineyards), Aaron Lange (LangeTwins Family Winery & Vineyards), and Kevin Phillips (Michael David Winery and Phillips Farms).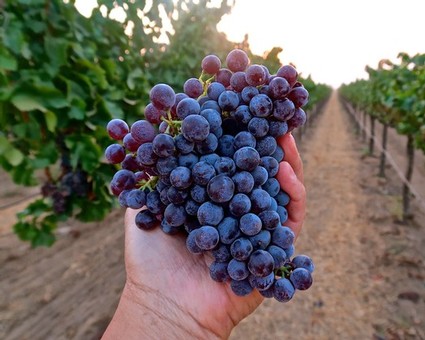 Abba Vineyards Grenache cluster. Photo by Randy Caparoso.
The Abba family has the unique ability to work alongside winemaker buyers to craft the wine in the vineyard, since they live on-site, have their own crew, are detail-oriented, and understand winemaking themselves. Lodi Wine blog author and SOMM Journal Editor-at-Large Randy Caparoso has written several articles highlighting the Abba's commitment to quality winegrowing through words and photos, such as Abba Vineyards grows Grenache comparable to "Pinot Noir".
To learn more or to purchase LODI RULES certified sustainable winegrapes from the Abba family, contact Phil Abba at 209.481.0773 or abbavine@gmail.com. Vineyard tech sheets are available for Abba Vineyard Louis Syrah (below) and Abba Vineyard Syrah.
---
Have something interesting to say? Consider writing a guest blog article!
To subscribe to the Coffee Shop Blog, send an email to stephanie@lodiwine.com with the subject "blog subscribe."
To join the Lodi Growers email list, send an email to stephanie@lodiwine.com with the subject "grower email subscribe."
To receive Lodi Grower news and event promotions by mail, send your contact information to stephanie@lodiwine.com or call 209.367.4727.
For more information on the wines of Lodi, visit the Lodi Winegrape Commission's consumer website, lodiwine.com.
For more information on the LODI RULES Sustainable Winegrowing Program, visit lodigrowers.com/standards or lodirules.org.