JULY 16, 2019.  BY RANDY CAPAROSO.
"How do Lodi wines relate to the big picture?" That was a question asked by Jim Gordon at the Lodi Vineyard & Wine Economics Symposium last week (June 27), in a seminar entitled Modern Lodi: The Media View on Lodi Wines' Stature In the Marketplace.
Mr. Gordon's outlook on Lodi wines, and Lodi as a winegrowing region in general, carries a lot of weight because he, like many longtime traditional print media journalists, has only recently (within the past 10 years) begun to recognize Lodi as a source of distinctive, high quality wines. Prior to that, his opinion of Lodi wines was… well, put it this way, it wasn't that positive.
Gordon has been in the business for over 30 years – significantly as a former editor for Wine Spectator Magazine as well as Wines & Vines, and currently as a contributing editor for Wine Enthusiast and editor-at-large for the industry oriented Wine Business Monthly.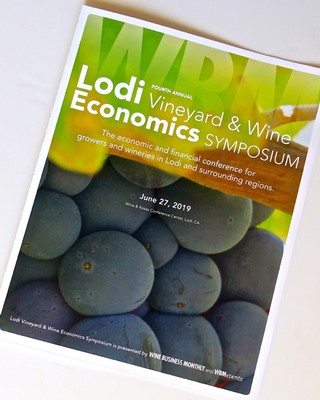 Also speaking in this seminar was Jennifer Estevez, an Advanced Sommelier in the Court of Master Sommeliers (meaning, she's passed nearly all the arduous examinations and is on the precipice of becoming a rare female Master Sommelier) as well as founder of OMvino, a wine industry marketing, social media, public relations, events and hospitality consulting firm. Prior to this, Ms. Estevez worked in the trenches, for some 15 years, as a sommelier and wine director in some of the most prestigious restaurants and resorts in Arizona and the Bay Area.
Said Gordon, to the audience of professionals with varying ties to the Lodi winegrowing industry (from banking and marketing to grape growing and wine production), "Jennifer is a Millennial, so she has a slightly different perspective from mine. I am a (Baby) Boomer… I still listen mostly to '60s and '70s rock, and so for the longest time my impression of the name, status or 'brand' of Lodi was that of the old Creedence Clearwater Revival song – a place where John Fogerty got 'stuck,' and wasn't very happy about it.
"Lodi has obviously come a long ways since those days, and that's okay because I can think of another place that has come a long way since the '70s – a famous wine region with a name that I used to associate more with 'Auto Parts' instead of wine before I first visited…. If Napa can develop into a stronger wine brand, so can Lodi."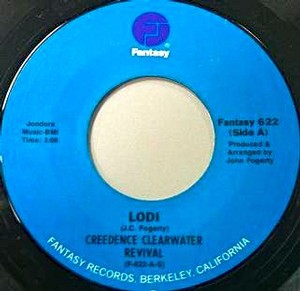 In Gordon's estimation, "the Lodi brand today is somewhere between 'California' and 'Mendocino' – California is well known, Mendocino is not." Gordon adds that he recently queried groups of journalists and regional wine buyers in preparation for his seminar, and found that the general consensus is "the Lodi name is still not known among most consumers, despite the great job the Lodi Winegrape Commission has been doing at getting the name out.
"The big question among wine professionals and even wine educators," says Gordon, is still, 'Where is Lodi?' I met one wine professional who asked, 'Is it near Paso Robles?'"
Gordon obviously brings out a salient point: Many wine consumers as well as professionals may very well have heard about Lodi, and have even tasted many Lodi wines. But many if not most of them are still fuzzy on the details. Which is not surprising, considering the hundreds of thousands of wines that are on the market today, which makes it understandable why many people are still fuzzy on where Chile is located in relation to Argentina, if Margaret River is on the west or east coast of Australia, or whether Paso Robles is north of Monterey or somewhere south of it.
As a wine reviewer for Wine Enthusiast, Gordon estimates that he has tasted and evaluated some 750 Lodi grown wines over the past five years. As an indication of how he looks at the quality of Lodi wines, these are the "Top 5" Lodi wines to which he has given the highest scores over the past 15 months:
Markus Wine Co., Zeitlos (Syrah blended with Carignan, Petite Sirah and Viognier)
Markus Wine Co., Sol (Petite Sirah blended with Syrah, Petit Verdot and Carignan)
Harney Lane Winery, Chardonnay
Harney Lane Winery, Lizzy James Vineyard Zinfandel
Peltier Winery, Sauvignon Blanc
Gordon has written extensively about Lodi Zinfandel for both Wine Enthusiast and Wine Business Monthly. The following are the Lodi Zinfandels he has recently awarded the highest ratings:
Harney Lane Winery, Lizzy James Vineyard
Solitary Cellars, East Block
Jessie's Grove Winery, Estate Collection
Michael David Winery, Lust
In respect to Chardonnay – a category in which there are thousands of brands to which Lodi wines can be compared – Gordon opines, "The quality of Lodi Chardonnay is good, but most push sweetness as well as butter and cream a little too much, and are also made with too much oak adjuncts which gives wines an artificial taste." In other words, the majority of Lodi Chardonnays are being made too much to taste like Chardonnays from other wine regions, which make this category less distinctive than, say, Lodi Zinfandel. Nonetheless, these are the most recent "Top Lodi Chardonnays" according to Gordon:
Harney Lane Winery
Covenant Wines
Michael David Winery
Ivory & Burt Wines
Gen5 Wines
The category that Gordon has recently found to be the "most exciting," however, is what he calls "Underdog Whites & Reds." These are the Lodi wines that invite the least amount of comparison to wines of other regions mostly because most American regions don't even grow these grapes in sufficient quantities. The nice thing about these wines, says Gordon, is, "They can be hipster and very 'current,' and crisper and livelier as wines go." Five examples cited by Gordon:
Thomas Allen Vineyards & Winery, Pinot Grigio
Peltier Winery, Preeminence (Vermentino/Sauvignon blanc/Chardonnay)
Peltier Winery, Vermentino
Klinker Brick Winery, Grenache Blanc
Klinker Brick Winery, Albariño
Addressing winery representatives directly, Gordon offered straightforward advice on how to get wines recognized by mainstream media or wine journalists:
• Provide samples and prices (Says Gordon, "I'm amazed how often I'm sent samples with no information or prices, which is absolutely essential if you want your wines reviewed.")
• Provide usable information on your Web site, like your story and bios of key people, plus high resolution photos ("Inadequate Web sites is the most common issue… don't make us go through the trouble of contacting you for images, because we won't run any if you don't make it available.")
• Email us ("But keep it short… I get so many emails from producers, it's impossible to read longer ones, unless we ask for it.")
Gordon strongly advises direct contact via email, but with a caveat: They should come with "good hooks" – specific reasons to write about your winery and wines. The following are examples of "good hooks":
• Human interest angles with good consumer appeal
• Food, travel, or cultural angles that are a little different
• Vertical tastings, such as reports on how older vintages of Zinfandel are tasting
• Use of sub-AVAs on labels and information (i.e. Clements Hills-Lodi or Mokelumne River-Lodi, as opposed to just "Lodi") because, according to Gordon, "The perception among media is that the smaller the AVA, the more likely the wine is better."
• "Be a part of saving old vines" says Gordon, because "images of old vines are among the most memorable in the wine industry"
Finally, addressing the Lodi community in general, Mr. Gordon strongly advises building "more inviting lodging (i.e. hotels) with real ambiance and extensive amenities… (since) luxury prices require luxury experiences."
But how different is the Millennial perspective compared to that of Baby Boomers like Gordon? Taking the mic from Gordon, Ms. Estevez told the audience: "Many consumers don't read wine publications like Wine Enthusiast. Instead, they look at social media. In fact, 95% of Millennials are looking at social media rather than magazines. Or they might follow sommeliers, who are like our story-tellers. Point is, a lot of today's wine buyers are Millennials."
Therefore, says Estevez, "You cannot do enough social media marketing… social media equals Guerilla Marketing (i.e. unconventional or unexpected forms of publicity). It is marketing you can do on your own. Smaller wineries especially have more opportunity to exploit social media."
Estevez sees huge potential in many of the wines coming out of Lodi today. "A lot of what I see," says Estevez, "answers the age old questions: Are you doing it for love or for money… are you pushing boundaries or playing it safe? It is exciting to see people in Lodi pushing boundaries, planting more hipster varietals. They are not trying to make just another Cabernet."
Estevez related a recent experience in New York, where she sat for a multi-course dinner in a top restaurant. "There was a Lodi Cinsaut served with Wagyu beef that got more questions and comments during the dinner than the (French) Burgundies that were served."
Other wine regions may produce wines commanding higher prices, but according to Estevez this actually works to Lodi's advantage. "Consumers feel safe here in Lodi. Why? Because here you find reasonable prices."
There is, however, social media and effective social media. Proffering advice to wineries, Estevez says: "First, looking at your business from the perspective of Millennials is key. Pay attention to the quality of your visual images. Pay attention to Influencer Marketing (i.e. identifying key brand advocates, i.e. 'influencers,' to utilize their influence over large chunks of social media followers) – there is a reason why Influencer Marketing is one of the fastest growing advertising fields today.
"There are top selling wine brands, like Kosta Browne, who focus almost entirely on social media, operating on a small budget to get huge returns. You can grow your brand awareness organically, which make it easier to promote wine club releases, educational trips, tastings and events.
"If your goal is to grow your brand, I suggest striking a balance between quality and quantity. In Lodi, it's important to be part of things like preserving old vines, or showcasing the aging potential of your wines. If they know about it, they love it!"
---
Have something interesting to say?  Consider writing a guest blog article!
To subscribe to the Coffee Shop Blog, send an email to stephanie@lodiwine.com with the subject "blog subscribe."
To join the Lodi Growers email list, send an email to stephanie@lodiwine.com with the subject "grower email subscribe."
To receive Lodi Grower news and event promotions by mail, send your contact information to stephanie@lodiwine.com or call 209.367.4727.
For more information on the wines of Lodi, visit the Lodi Winegrape Commission's consumer website, lodiwine.com.