OCTOBER 21, 2019.  BY RANDY CAPAROSO.
One of the joys of the annual wine harvest is being able to get up close and personal with a good variety of grapes, bursting with ripened flavors on the vine. Since there are over 100 wine grapes grown in Lodi alone, this time of year is paradisaical for a professional oenophile able to walk freely among the vines.
In light of that, we'd like to share close-ups of ten grapes that we find of particular interest (starting below).
Why ten? In her recently published book Ten Grapes to Know (2019, The Countryman Press), Master Sommelier Catherine Fallis focuses on "ten essential grapes and the wines they make," the knowledge of which would help the average American consumer "navigate most wine situations with confidence and ease."
The ten grapes covered by Fallis:
Pinot Gris (Pinot Grigio)
Sauvignon Blanc
Chardonnay
Viognier
Pinot Noir
Sangiovese
Syrah (Shiraz)
Merlot
Cabernet Sauvignon
Zinfandel
Yet as anyone who has recently stepped into a specialty wine store well knows, there are far more grapes to know – not only among the selections of domestically produced varietal wines on the shelves, but also grapes going into imported wines which account for 33% of all the wine sold in the U.S. (Thach, U.S. Wine Industry In 2019).
Jancis Robinson, who is probably the most widely read wine author in the world, recently posted a column in FT Magazine (On the demand for exotic grapes) that makes note of the fact that there are currently some 1,450 different grapes cultivated around the world for commercial wine production. A handful, such as Cabernet Sauvignon and Chardonnay, are obviously the most important economically, but there are many others that Robinson describes as more "fashionable," at least according to her own observations of today's international market.
Robinson cites how "the wine world has been transformed from one dependent on a handful of 'international' (mainly French) grape varieties such as Cabernet Sauvignon and Chardonnay into one that seems increasingly fascinated by alternatives to them — the more local and obscure the better."
Robinson's list, adding up to 14 grapes:
Whites   
Assyrtiko (Greece)   

Fiano (Italy)
Furmint (Hungary)
Godello (Spain)
Malagousia (Greece)
Pecorino (Italy)
Petit Manseng (France)
Savagnin (France)
Xarel-lo (Spain)
Reds
Aglianico (Italy)
Mencía (Spain)
Nebbiolo (Italy)
Nerello Mascalese (Italy)
Touriga Nacional (Portugal)
Looking at Robinson's list, the average American wine consumer would probably say: What the hey? Aside from Fiano, Aglianico, Mencía, Nebbiolo and Touriga Nacional, none of the grapes on this list are grown in Lodi, which accounts for approximately 20% the grapes going into California wines (and according to the Wine Institute, California produces 81% of the domestic wines sold in the U.S.).
According to Robinson, despite their "obscurity," these fashionable grapes are currently "celebrated" because of "the growing admiration for indigenous varieties" which "tend to thrive in their native region, as well as producing truly local, distinctive wines."
In other words, as Robinson suggests, the wine world is gravitating more and more towards an appreciation of wines made from grapes that are naturally suited to their original environments, as opposed to wines made from grapes chosen purely for commercial purposes. Robinson's list of today's most "fashionable" grapes, in fact, consists nearly entirely of cultivars indigenous to Mediterranean wine regions – particularly those of Greece, Italy, Southern France and Spain.
If we were to extrapolate Robinson's logic and apply that to California, this would suggest a gravitation towards grapes that are most easily adaptable to a Mediterranean climate, which characterizes the growing conditions of not just Lodi but also most of the North Coast (including Napa Valley and Sonoma County) and Central Coast (stretching from Livermore Valley all the way down to Santa Barbara).
Hence, our own list of "ten more grapes to know" share that commonality: All but two of our chosen ten originated in Mediterranean wine regions. The exceptions are a white wine variety called Kerner and a red wine grape named Dornfelder, both widely planted in Germany – a good distance from the Mediterranean Sea – although cultivated in the warmest wine regions of Germany, including the Palatinate, Rheinhessen and Württemberg (some Kerner is also grown in Northern Italy, while Dornfelder has made tiny headway in Switzerland and England).
Our ten grapes, and why it is important for you to get to know them:
1)  Vermentino                       
Lodi growers started planting Vermentino – an important white wine grape in places like Corsica, Sardinia (where the grape is called Pigato), and much of Southern France's Provence and Languedoc-Roussillon regions (where it is called Rolle) – in the early 2000s and have been shouting "Eureka!" ever since for the obvious reasons: Despite the grape's golden, large berried and generously weighted cluster morphology, it absolutely thrives in warm-to-hot Mediterranean environments, producing white wines with ample amounts of natural acidity and intriguing aromas and flavors suggesting citrus, melon, suggestions of leafy green herbs (sometimes thyme, sometimes lavender), yet just enough restraint in its fruitiness to give firmly dry, flowing mineral sensations in the nose and palate-feel.
This is not to say that Lodi grown Vermentino has been setting the wine world on fire. Yet slowly but surely, it continues to increase in popularity among more handcrafty producers (look for those of Uvaggio Wines, Peltier Winery, Avivo by DaVero Farms & Winery, Fields Family Wines, m2 Wines, or PRIE Winery). No wonder, as Uvaggio's Jim Moore has often said, "Vermentino is the thinking man's Pinot Grigio."
2)  Kerner
Kerner is a crossing of Vitis vinifera (i.e. cultivars belonging to the European family of wine grapes) originally developed in 1929 by a grape scientist named August Herold for the German winegrowing industry, and at the height of its popularity in 1990 there was some 20,000 acres of it grown in Germany. Herold crossed Riesling with a black skinned red wine variety called Trollinger, and the result was a beautifully pale green-gold tinted grape with tell-tale brown specks that yields a beautifully dry and minerally style of white wine, as nuanced as any with suggestions of citrus and stone fruit, airy light and svelte in feel.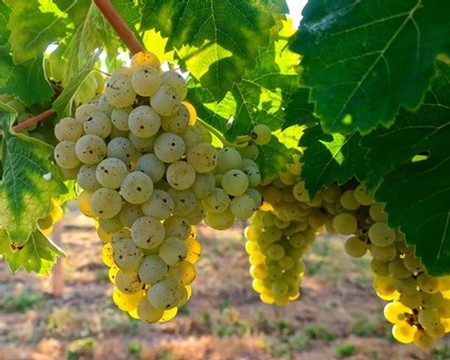 2019 Kerner grapes in Lodi's Mokelumne Glen Vineyards
There is less than an acre of Kerner grown in Lodi, which has not been enough for the Sidebar Cellars brand produced by David Ramey, one of California's most iconic winemakers. Since the 2014 vintage, Ramey has been producing a Sidebar Kerner that has been selling in some of the most glamorous restaurants in the country. Lodi's own Markus Wine Co., owned by the widely heralded Markus Niggli, has been producing a fascinatingly sleek and minerally Kerner based white wine (blended with Bacchus and Riesling grapes) called Nativo, which enjoys cult-like status among the few wine buffs and journalists who have come across it.
And all of this Kerner – essentially, the entire production for the state of California – has been coming from one Lodi grower, the Koth family who own and farm Mokelumne Glen Vineyards. While it all adds up to less than a drop in the proverbial ocean constituting the entire world of wine, these wines have been making lots of waves among the cognoscente. Someday, we suspect, more growers may catch on and begin to plant Kerner to meet a growing (even if modest) demand. Just look at the history of varietal categories in California, such as White Zinfandel which started as an experimental wine made by a handful of tiny producers. Sometimes tiny drops turn into hurricanes.
3)  Fiano   
Oak Farm Vineyards GM/partner Dan Panella grows and produces Fiano for the best of reasons: Because his family is originally from Avellino in Italy, where Fiano has been one of the three most important white wine grapes since the first centuries of the Roman Empire, starting in BC.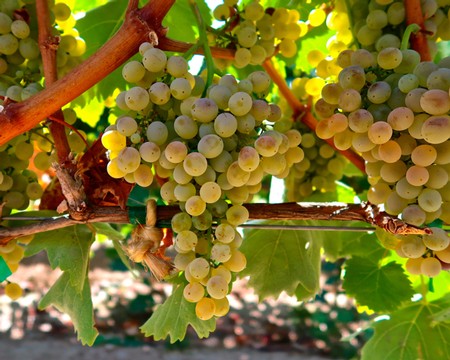 2019 Fiano grapes in Oak Farm Vineyards on the west side of Lodi's Mokelumne River AVA
Fiano is a grape that has endured, like, forever in Italy (today it is accorded the country's highest ranking as a DOCG) because, plainly, it makes beautiful wine. Although Oak Farm is Lodi's first – and as of today, the only – grower and producer of Fiano, they are already producing a white wine that only underscores the wisdom, or common sense, of planting Mediterranean grapes in Mediterranean climate zones: The Oak Farm bottlings absolutely sings with flowery, honeyed fragrances suggested toasted nuts (think pecan, veering towards hazelnut or filbert), manifested on the palate with a lemon/lime zestiness cushioned by a silk-textured viscosity – sensory qualities the grape appears to effortlessly produce in Lodi's sun-soaked climate and sandy soils.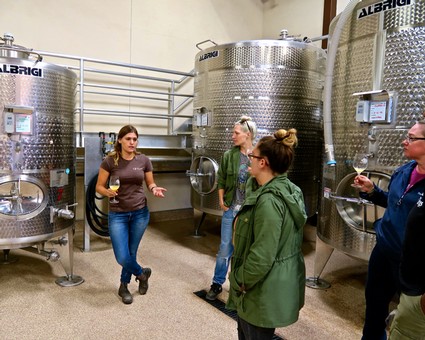 Oak Farm Vineyards winemaker Sierra Zeiter sampling visiting sommeliers on still-fermenting 2019 Fiano from the tank
When you look at the success of a grape of Fiano in Lodi it only makes you wonder how so many other classic wine grapes of the Mediterranean might do in a region like this. Particularly white wine grapes that go into imports long esteemed by connoisseurs and soaked up by ravenous wine consumers: Grapes like the Garganega that goes into Soave, the Ansonica (a.k.a. Inzolia) of Sicily, Campania's  time honored Greco and Falanghina varietals, Piemonte's Cortese and Arneis grapes, the Friulano (a.k.a. Sauvignon vert) of Veneto's Friuli region, the Grechetto and Trebbiano grapes of Umbria's Orvieto, the Assyrtiko of Greece's Santorini, Ribolla Gialla of Slovenia and Friuli-Venezia Giulia, the Loureira grape of Portugal's Vinho Verde (Lodi already has tons of the Albariño grape also widely planted in Vinho Verde), and so many others.
Baby steps, of course… big journeys always start off with baby steps. But it's the success of grapes like Fiano and Kerner that bode well for more leaps to come.
4)  Clairette Blanche
At the moment, there is only one grower/producer in Lodi (Acquiesce Winery) that grows Clairette Blanche, one of the 18 grapes that go into the wines of the Rhône Valley's Châteauneuf-du-Pape appellation. Clairette Blanche is a white wine grape, but bear this in mind: White wines from Châteauneuf-du-Pape – usually blended with grapes like Grenache Blanc, Roussanne, Clairette blanche and Bourboulenc – now retail for somewhere between $50 and $100 on average. Anything this "prestigious" is worth looking into.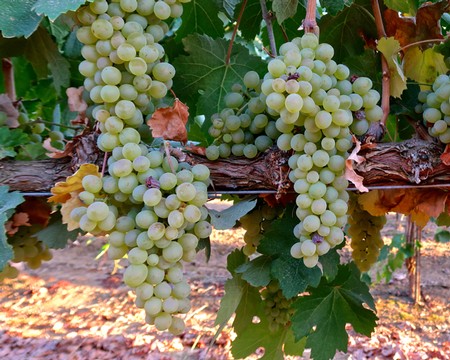 2019 Clairette Blanche in Lodi's Acquiesce estate
Accordingly, in other California wine regions (notably Paso Robles) specialty winegrowers have been upping their plantings of Clairette Blanche. The practical reason: By itself, Clairette Blanche not only produces a generous crop of healthy fruit, it yields a dry white wine with crisp acidity, sleek and minerally textures, stone fruit and herbes de Provence-like nuances; but when blended with other white wine grapes with a similar penchant for warm Mediterranean climates, it adds a racy, stony touch that is almost magical. More simply put, a no-brainer for regions like Lodi.
5)  Carignan
If you are a wine history buff, you might be familiar with reports similar to the 1971 California Crop & Livestock Reporting Service document listing the most widely planted grapes in California at that point in time. At the very top, Carignan is listed with 30,472 planted acres. Zinfandel is second with 27,226 acres, Barbera is fourth (20,435 acres), and right behind are both Cabernet Sauvignon and Grenache (both with just over 18,000 acres). Chardonnay and Pinot Noir? Barely more than 7,000 acres each. And Merlot? Listed among "Other Red Wine Grapes," with less than 100 acres planted.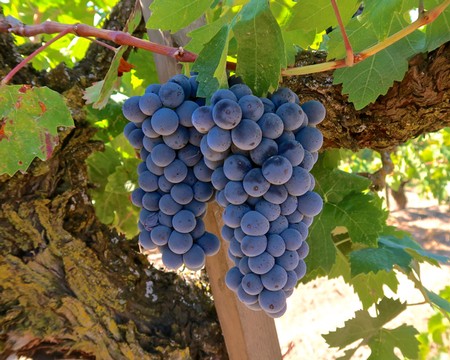 2019 Carignan in the 1900 block of Jessie's Grove Winery
Of course, times were different in 1971, but there is a reason why grapes like Carignan, Zinfandel, Barbera and Grenache were still the most widely planted grapes at the dawning of the modern day California wine boom: Because up until that time, these were the grapes that were easiest to grow in the state's warm Mediterranean climate zones.
Carignan was, and still is, a workhorse red wine grape in Southern France, all over Spain and in Northern Africa. It grows in the hottest of climates and, often enough, in the poorest of soils, and still puts out red wines replete with zesty acidity and effusively bright red fruit. Somewhere along the line, of course, Carignan was supplanted in California by calls for grapes that produce red wines with more classic profiles (re Cabernet Sauvignon and Pinot noir), but that doesn't mean it no longer produces distinctive wines in regions like Lodi where you can still find Carignan plantings dating back as far back as the 1880s.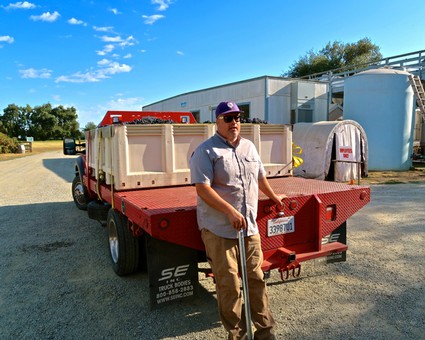 Sandlands owner/winemaker Tegan Passlacqua with macro-bins of his just-picked 2019 Carignan from Jessie's Grove's 1900 block
Hence, the growing number of specialty producers now lining up for the dwindling supply of Lodi grown old vine Carignan: Including McCay Cellars, Klinker Brick Winery, Jessie's Grove Winery, PRIE Winery, Michael Klouda Wines, m2 Wines, Van Ruiten Family Winery, and Michael David Winery among local producers; and Holman Cellars, Leaf and Vine Winery, BIRICHINO Winery, Precedent Wines, and Sandlands Wines among the growing number of "outside" brands mining Lodi for Carignan gold, while the going's still good.
6)  Grenache
Grenache has always been the quintessential Mediterranean grape. As one Lodi winegrower is fond of saying, it is "Lodi's Pinot Noir." This is 2019, however, not 1971; and whereas acreage of Lodi Grenache has dwindled down to less than 100 acres, there is now a good 3,476 or so acres of Pinot noir planted in the Lodi AVA (according to the 2018 USDA California Grape Acreage Report). It is ironic that far more Pinot noir – which originated in the cooler climate regions of France, where Grenache is never grown – is now planted in a region like Lodi, but that's the way the wine world spins.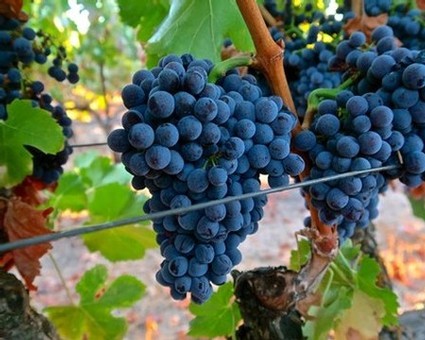 2019 Grenache clusters in Mettler Family Vineyards
If Lodi grown Grenache resembles "Pinot Noir," it is only in one sense, which is a sensory one: Here it produces a soft, gentle, silky textured red wine with a red berry perfume replete with sweet black peppery spice and faintly earthy tones. Most of Lodi's Grenache – what little there is – still goes into the production of dry style rosé, which makes sense because Grenache produces fantastic rosé everywhere else in the world it is grown (particularly in Southern France and Spain). But when you find a red wine made from Grenache (look for those of McCay Cellars, Jeremy Wine Company, Hunters Oak Vineyard, Jeff Runquist Wines, or the synonymous "Garnacha" bottlings of Bokisch Vineyards, d'Art Wines or Riaza Wines), you should enjoy the rarity of the experience of such a gentle and intriguingly spice scented red wine unique unto itself.
7)  Tempranillo
As in all the California wine regions, there is still not a lot of Tempranillo grown in Lodi – about 140 acres, according to latest reports – but there are over a dozen local wineries that open their doors during the Lodi Tour of Tempranillo each November. Lodi may not produce a lot of Tempranillo (according to a recent California Grape Crush Report, about 14.3% of all of California's production of the varietal), but what little it does can be strikingly fine and supple in texture, with the red berry, roasted meat and sometimes leather-like varietal complexities recalling the finest of, say, the official DO regions of Spain, where the grape has probably thrived for some 2,000 years (there is no actual physical evidence of the grape's presence going back that far, but there is a 2,000-year-old Roman mosaic depicting winemaking unearthed in Ribera del Duero, one of Spain's major Tempranillo regions).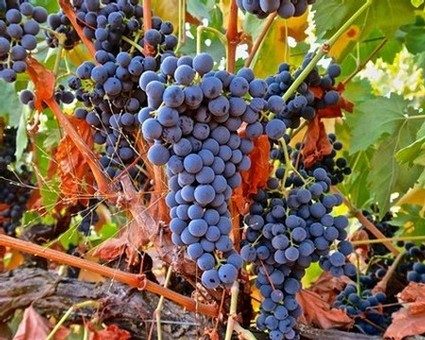 2019 Tempranillo in Lot 13 Vineyard, a seminal Lodi growth planted in the late 1990s
Bokisch Vineyards deserves credit for being a leader in the cultivation and mastery of Lodi appellation Tempranillo over the past two decades, although three wineries – McCay Cellars, Fields Family Wines and m2 Wines – produce exquisite Tempranillo from one of Lodi's first plantings of the grape (since the late 1990s), now called Lot 13 Vineyard.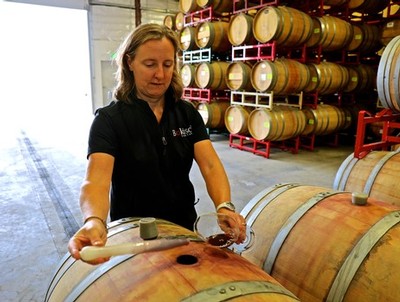 Bokisch Vineyards winemaker Elyse Perry drawing sample of the winery's "Gran Reserva" Tempranillo, destined to be aged for over 5 years in wood and glass
Other Lodi based varietal practitioners of the grape include d'Art Wines, Dancing Fox Winery, Heritage Oak Winery, Hunters Oak Vineyard, Peirano Estate Winery, Riaza Wines, Ripken Vineyards, St. Jorge Winery, Toasted Toad Cellars, Viaggio Estate, McConnell Estates Winery, and Durst Winery; and non-Lodi wineries bottling Lodi grown Tempranillo include Fenestra Winery, Odisea Wine Company, Reed Wine Cellars, and Vino Vargas.
8)  Barbera
Barbera is a grape that has seen its heydays, yet is far from forgotten. For instance, 30 or so years ago it was still the most widely planted red wine grape in Italy (today it is a distant second to Sangiovese in that country), just as 50 years ago its 20,000 or so acres made it one of California's most widely planted grapes.
Today Barbera's total acreage in California hovers around 4,950 acres – puny compared to Cabernet Sauvignon's +93,000 acres, but still respectable. In what way? The grape has its fans – fans so crazy, they have their own "Barbera Festival" each year in Amador County. The grape grows beautifully in Amador County just as it does in Lodi for this major reason: It can ripen to spectacular heights of flavor and texture in a decidedly warm climate yet retain more natural acidity than any other black skinned grape in existence. Plus, there will always be room in the world for red wines with good, zesty, high acids (think spaghetti with a meatball marinara sauce – who doesn't love that, and what wine goes better with that than Barbera?).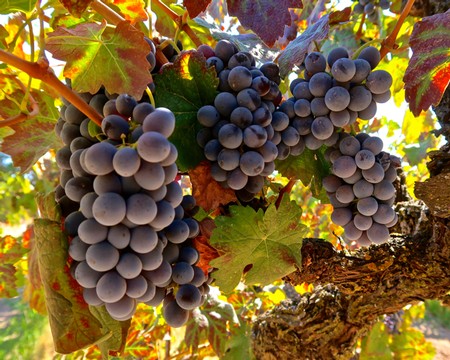 The smaller cluster morphology (fist sized) of older vine Barbera in Leventini Vineyard, planted in the mid-1970s in the shallower sandy clay soil of Lodi's Jahant AVA, going into bottlings by St. Amant and Uvaggio wineries
The history of Barbera in Lodi parallels the entire state's in that it has transitioned from a generic wine component into a specialty varietal red. During the 1970s wineries like E. & J. Gallo contracted a number of local growers to plant the grape for its famous Hearty Burgundy program. Today Hearty Burgundy is no longer Time Magazine cover material (as it was in November of 1972), but a few of those old vineyards, particularly on the east side of the Mokelumne River AVA, are still hanging on to their old school "California Sprawl" trellis systems, producing small amounts of exhilaratingly intense varietal reds from miniscule bunches for wineries like St. Amant Winery, Macchia Wines, PRIE Winery and Uvaggio Wines (other old plantings, like that of Borra Vineyards, have recently gone into limbo since that Lodi brand has closed down).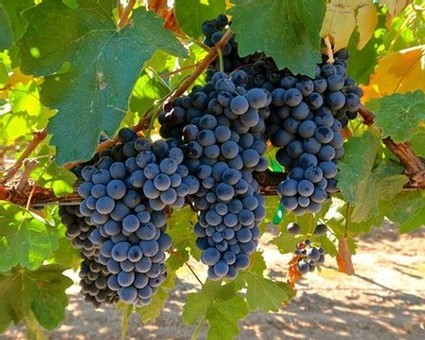 Generous sized 2019 Barbera clusters in the younger vine block at Oak Farm Vineyards
Oak Farm Vineyards, notably, has not only embraced the time honored Lodi tradition of cultivating Barbera, they have made a big-time commitment with new plantings producing a classic varietal style: Red wines that are full, fleshy, pungent and, of course, zesty with mouth-watering acidity. Mediterranean inspired winegrowing at its best!
9)  Nero d'Avola
Over the past 15, 20 years Nero d'Avola has emerged as one of premier varietal reds coming out of Sicily, located smack dab in the middle of the Mediterranean. Because of its lineage, it pencils out as a grape tailor-made for Lodi, although only one grower/producer, LangeTwins Family Winery & Vineyards, has made a commitment to this black skinned grape.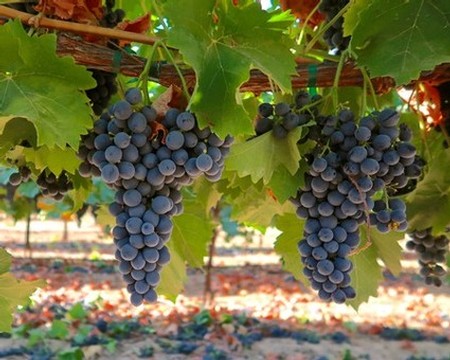 2019 Nero d'Avola in LangeTwins Family's winery block in the Jahant-Lodi AVA
But as the wine industry everywhere around the world has seen time and time again, it only takes one to lead the way, and you can already taste it in LangeTwins Family's first bottlings: A deeply colored red wine that is intense in red cherry and nuanced, floral notes (suggesting rose petal and caraway-like spice); and even more exciting, densely textured flavors couched in a solid, even keeled framework of acid and tannin, coming across as zesty, edgy, yet round and compellingly pliant – all of that, in a wine well under 13% alcohol!
If the future of Lodi wine is in wine grapes in which you can achieve all the flavor in the world without having to pick at high sugars necessitating manipulation in the winery (like alcohol reduction or acid adjustment), grapes like Nero d'Avola may be a poster child. If anything, it just makes sense, given the nature of Lodi terroirs.
10)  Dornfelder
Like Kerner, Dornfelder was developed for the German wine industry by August Herold. It is a 1955 cross of two different crosses: Helfensteiner (Frühburgunder x Trollinger) x Heroldrebe (Blauer Portugieser x Bläufrankisch), and has become, according to Robinson, "Germany's most successful red crossing, making juicy, deeply colored reds." Also according to Robinson, Dornfelder compares favorably to other black skinned grapes popular in Germany: It is "easier to grow than Spätburgunder (i.e. Pinot noir), has better resistance to rot than Blauer Portugieser (as well as deeper color, more powerful flavours and more tannin), has stronger stalks than Trollinger, ripens earlier than Lemberger (a.k.a. Bläufrankisch), and achieves higher must weights (i.e., higher potential alcohol levels) than most of these varieties."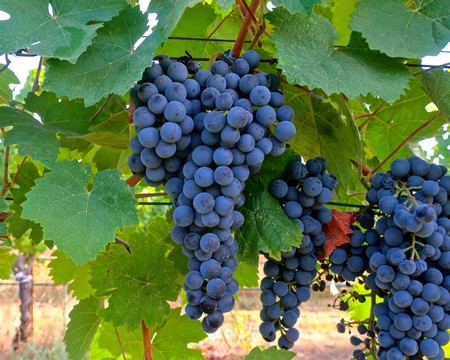 Deeply pigmented, thick skinned 2019 Dornfelder grapes in Lodi's Mokelumne Glen Vineyards
Therefore, like Kerner among white wine varieties, Dornfelder sounds like a good possible match for Lodi; and in fact, it has been producing almost astoundingly intense red wines in Lodi, with a keen sense of balance. At this point in time, Dornfelder is only being grown by the Koth family's Mokelumne Glen Vineyards, and the most recent bottlings have been done by Lodi's PRIE Winery.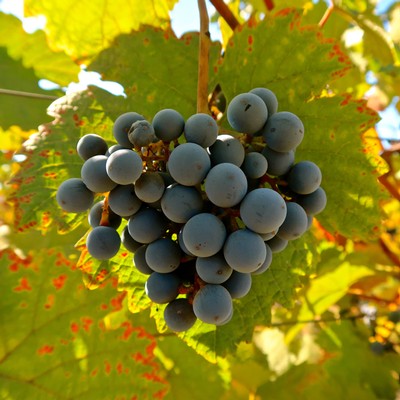 Smaller cluster of 2019 Dornfelder in Mokelumne Glen Vineyards
Ergo, our notes from a recent tasting of PRIE Dornfelder, crafted in this boutique sized winery's customary minimalist fashion: "Opaque, vivid, inky-black purplish color; a harbinger of a deep, concentrated nose suggesting blackberry jam and roasted coffee spices… unencumbered by oak (aged in strictly neutral French oak for 7 months), carrying over to the mouth in a medium-weight body (a refreshingly restrained 12.7% alcohol) bolstered by dense yet smoothly rounded tannin, finishing a juxtaposition of velvet textures and lip smacking, zesty qualities."
Anyway you look at it, Dornfelder is proving to be uncannily well suited to Lodi's climate and, in the case of the Mokelumne Glen Vineyards site, deep, sand dune-like soils. In other words, we may not know exactly why it's been successful. There may have been a touch of lunacy involved in the decision to plant a German grape like Dornfelder (or Kerner, for that matter) in Lodi in the first place. All we really know for sure is that the results have been impressive where it counts, in the glass, when this dense, black, flavorful wine is poured. And that's all that matters.
Randy Caparoso is a full-time wine journalist who lives in Lodi, California.  Randy puts bread (and wine) on the table as the Editor-at-Large and Bottom Line columnist for The SOMM Journal, and currently blogs and does social media for Lodi Winegrape Commission's lodiwine.com.  He also contributes editorial to The Tasting Panel magazine and crafts authentic wine country experiences for sommeliers and media.
---
Have something interesting to say?  Consider writing a guest blog article!
To subscribe to the Coffee Shop Blog, send an email to stephanie@lodiwine.com with the subject "blog subscribe."
To join the Lodi Growers email list, send an email to stephanie@lodiwine.com with the subject "grower email subscribe."
To receive Lodi Grower news and event promotions by mail, send your contact information to stephanie@lodiwine.com or call 209.367.4727.
For more information on the wines of Lodi, visit the Lodi Winegrape Commission's consumer website, lodiwine.com.